On January 20th, Rayson's 2016 Annual Summary Commendation Congress was held in Rayson Staff Entertainment Room. The meeting aims to summarize the company's 2016 results, to highlight the performance of the teams and staff, and the new development direction of the company.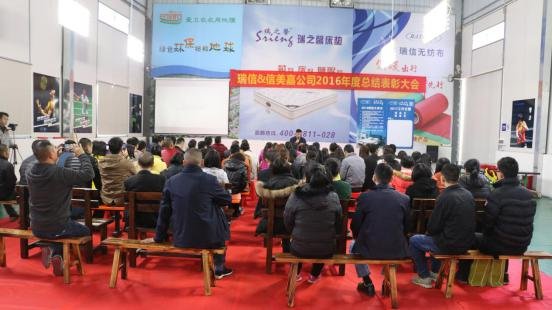 First of all, we reviews over Rayson's fruitful results in 2016. Srieng mattress won the title of famous-brand products in Guangdong Province, further enhancing the brand awareness and reputation; the company passed the high-tech enterprise certification with significantly increased comprehensive strength; the company passed the ISO9001 and ISO14001 system certification, further standardizing the operation of enterprises; the company obtained a number of patents and product certification, further improving the competitiveness of products; the two newly registered brands "Enviro" and "Mr Tablecloth" , making product diversification; the Staff Entertainment Room was officially put into use, making enterprise culture, rich and colorful. 2016, because of the international impact of the economic downturn, foreign trade is very difficult, but in the joint efforts of the whole Rayson staff, the sales keep growing!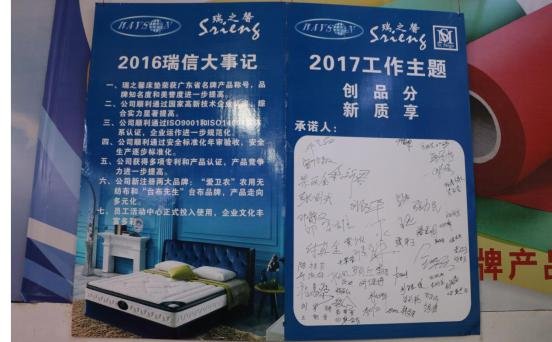 The realization of the great success owes to the hard-work of the whole Rayson staff. Therefore, the company presents prizes for the outstanding teams and individuals, including awards for outstanding teams, outstanding staff, the total sales Master award and individual sales. Awards for Outstanding Team is presented to Export Group A, which Master award outstanding team award respectively by Export Group A, St. Mega's Hardware Department and Non-woven Workshop. The export A group is the three consecutive year of outstanding team title, which can be proved by annual sales growth and increasingly expanding customer circle. The company praise the winning teams and individuals, and encourage the winners to redouble their efforts to continue full of challenges and opportunities in 2017.
Subsequently, the sales team, administrative team and production team representatives shouted the new departments slogan for 2017 and declared their ambitions.
At the end of the meeting, the general manager of the company Mr. Deng Hongchang delivered a speech. Deng pointed out that the company has made gratifying achievements in 2016, but we should work even harder because 2017 will be more difficult, and more challenging. The company's goal is for 2017, the sales of non-woven and mattress increases by more than 30% and that of St. Mega doubles, to achieve another growth under the poor economic environment. Deng also suggested that in the new year, the company will further enhance the welfare of the staff, strengthen the building of enterprise culture and enhance every Rayson staff a sense of belonging. 2017 , the company put be "Quality, Innovation, Sharing" as the theme, continuing to focus on development of new products, placing more emphasis on product quality control, and keeping mutual sharing the joy of success. 2017, let us hand in hand, roll up our sleeves and go!