On Apr.27, the second phase of 121st Canton Fair held in Guangzhou Pazhou International Exhibition Hall comes to an end. The comprehensive arrangement, the appearance of new products and the cash paid for new order have won Rayson company great success. Through the fair, Rayson managed to raise its profile and explore a wider oversea market.
The 5.1 Exhibition Hall
The Comprehensive Arrangement
Canton Fair is a synthetic international industry party with longest history, largest scale, most types of goods and best reputation. It is a symbol of a company's power. While many enterprises failed to attend the fair, Rayson surprisingly gets five booths in two phases, which are located in A,B and C Hall. The booth number are as followings:
Landscape Products 5.1K28
Furniture Products 10.2F23-24 & 12.2K37-38
Gifts and Presents 11.1D24
Home-use Products 14.4C22
Pictures of the Exhibition
The arrangement of booths is related to Rayson's product types. Rayson Global Company is a synthetic joint venture dedicated to researching and producing non woven fabric, non woven products and mattresses. Rayson, Mr Tablecloth, Envio and Srieng are four main brands owned by Rayson. Mattresses belong to Furniture types, but non woven is widely used in household, agriculture and medical areas. This is why our products greatly meet customers' needs.
The new product flower wrapping fabric wins high opinion.
The flower wrapping fabric is one of Rayson's new products. At the end of March, Rayson group went to Europe to attend exhibition and found that many flower shop owners use non woven to wrap flowers instead of plastic or paper. Compared to other packing materials, non woven can extend the freshness date of the flowers and it is more environmental. Therefore, a new project is launched. Back to China, the group started to research non woven which is suitable for wrapping flowers and the new product is proved to be a success at the fair.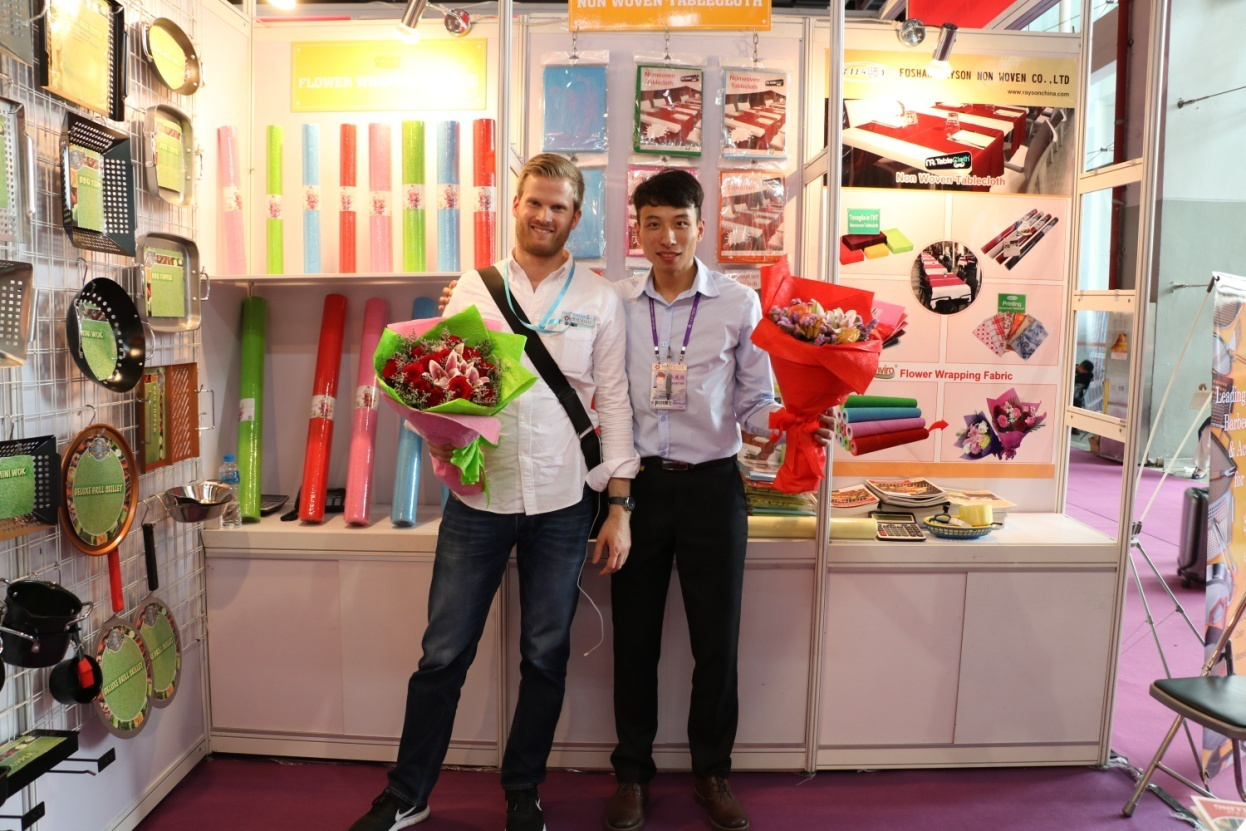 The Flower Wrapping Fabric
The flower wrapping fabric wins high opinion from foreign customers and attracts a great number of customers to inquire about it. Some customers even place an order during the fair.
Customers and Rayson's Representatives
Customers pay cash for new order!
Canton Fair provides a nice platform for enterprises to contact old customers and explore new customers. Rayson company make great success during the fair. As the company is about half an hour's drive from the exhibition hall, many customers choose to come the see the factory and then have a deep conversation. Some customers know something about Rayson so they confirm the order even if at the fair.
Most surprisingly, on the last day of the fair, a customer from Africa even place a order of mattresses and pay cash for the deposit!
African Customers and Rayson's Representatives
Rayson's quality is trusted by the world. In the future, Rayson company will seize each opportunity and try to spread our high quality and honesty to the world. With the ending of the second phase, the third phase Canton Fair will be on May 1 to May 5. Rayson's group will be waiting for you at the following booths:
Sports and Traveling Products 3.2M17
Medical Products 10.2K06
Textile Raw Materials 16.3B39
We warmly welcome friends from all over the world to visit our booths and have a nice talk!